The End Festival presents:
Jack Cheshire
Jack Cheshire + Robert Chaney
£8.50
Entry Requirements: 18+
Line Up
Jack Cheshire is an English musical artist based in London.
He has written and recorded four albums;
Allow it to Come On (2008) Copenhagen (2011) Long Mind Hotel (2013) Black Light Theatre (2017)
Cheshire has shared stages with the likes of Songhoy Blues & Josh T Pearson as well as performing at Green Man Festival and the Kings Place.
In March 2014 he played a live session for Tom Robinson's BBC 6 Music radio show.
He writes and records with long term collaborators David Pearson (guitar) Jon Scott (drums) Andrea Di Biase (double bass).
For their latest record 'Black Light Theatre' they worked with producer Rob Ellis and engineer Peter Deimel at Black Box Studios, France.
Bookings: Lara Feldmann music@larafeldmann.com Management: Russell Churcher russell@peelpark.co.uk Press: Beth Brookfield beth@bandwagonpress.com Radio: James Pegrum james@viaductpromotions.co.uk
'Spooky, pointillist, strings-driven pastoralia: beautiful stuff…' The Sunday Times
'…a curious, idiosyncratic piece of artful pop. Psychedelic in a very English way, it's a literate return, one imbued with remarkable depth.' Clash
"…gorgeous and mind bending…" Lauren Laverne BBC 6 Music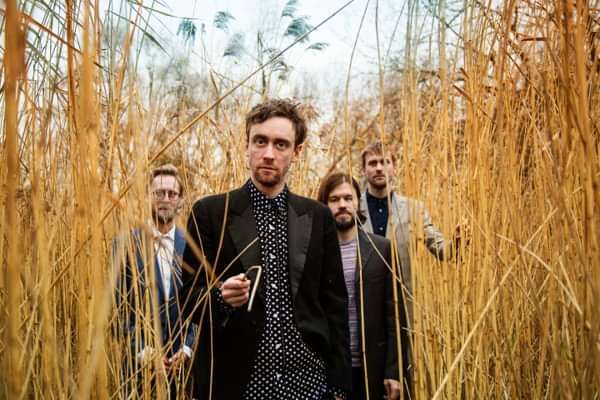 Listen at: http://www.robertchaney.net Facebook: https://www.facebook.com/robertchaneymusic/ Twitter: https://twitter.com/robertjchaney
"I couldn't stop listening. I'm tipping him for great things in 2016" - The Steve Lamacq Show, BBC Radio 6 Music
"If this album was a film, it'd hook you from the first frame." - 8/10 Classic Rock Magazine (UK)
"Deliciously dark and brilliantly bleak." - The Blues Magazine (UK)
"Sharp, intelligent, thoughtful, and moving" - Folk Radio UK, named one of the Best Folk Albums of 2015
2016 is shaping up to be an important year for American songwriter Robert Chaney. Last year saw the UK self-release of his debut Cracked Picture Frames, which was name-checked on several UK 2015 year-end best-of lists, including Classic Rock Magazine's Top 5 Blues Albums, Blues Magazine's Top 50, and Folk Radio UK's Best Folk Albums of 2015. After a summer on the festival circuit, as well as a string of successful UK supports, among them legendary songwriter Buffy Sainte-Marie, country/blues/acid-house pioneers Alabama 3 (best known for the Sopranos theme tune), and Americana siren Aoife O'Donovan, Chaney rounded out the year with an electric session for legendary tastemakers Daytrotter.
About Robert Chaney
Tall and thin, as pale as a sheet of A4, Robert Chaney is not the kind of person you imagine hailing from sunny South Florida. But Florida is a place of contradictions. It is a land of technicolour sunsets and torrential storms. Of glittering skyscrapers and sun-rotted bungalows. Of Disney World and designer drugs. And so perhaps it is really no surprise that Chaney can come from a place like Florida and make his kind of music - bitter, skeletal ballads played on rickety guitars and buzzing amplifiers. They are songs woven from tabloid headlines, crimes, and love affairs. Stretched within their warp are threads of the dusty shellac blues of the 20s and 30s, the hyper-violent pulp noir of the 40s, the cable-knit folk revival of the 50s, and the French celluloid new wave of the 60s.
The Dylan comparisons are inevitable, though they miss the point. Chaney projects his songs through a dusty existential lens aimed at the American South, taking inspiration from such varied influences as film directors Truffaut, Godard and Melville as well as authors Cormac McCarthy and Flannery O'Connor. Recorded live at London's Regal Lane Studio with producer Ken Brake, his debut album Cracked Picture Frames is minimal and high definition, achieving an astounding depth with little more than guitar, vocals and reverb.
The topics of the songs themselves hang heavy. The first track, the ominously named Black-Eyed Susan, chronicles shame and violence from the point of view of an abusive partner, before culminating in the narrator's nervous breakdown via an unhinged stream-of-consciousness. Patch It Up (track 4) slyly conjures a Florida hurricane as a metaphor for a faltering relationship, its middle section replete with a density of rhyme that recalls more Public Enemy than Prine. One of the highlights of the album, The Cyclist (track 6) spins a tale fit for crisp B&W 16mm, featuring a cheating spouse, a tragic roadside death, a starkly-lit police interrogation room, and a courtroom twist at the end that often causes audible gasps at live gigs. With his guitar as the barest of accompaniments, Chaney propels the listener through time, space, and story with a dexterity that truly sets him apart from worthy contemporaries.