The End Festival presents:
Hawk plus The Anatomy of Frank
HAWK + The Anatomy of Frank + Kansas City Theatre
£8
Entry Requirements: 18+
"…waves of heavy percussion and
intertwining riffs." - diy
"...emotional..." - stereogum
"…stunning…" - noisey
"…simply sublime…"
Following their previous majestic release, Sin, Berlin-based HAWK return with the sweeping passion of new AA-side Can't Explain / Below, out on 17th November 2017 via Veta Records.
Inspired by Irish history, the Catholic church and its mistreatment of women, Below oozes a twinkling, ethereal splendour as the spine-tingling emotion of Julie Hawk's celestial vocals flow. With a rich, haunting grandeur, a shimmering delicacy is juxtaposed with a searing passion and dark undertones, conveying the track's message with a captivating grace. Julie explains "as an Irish woman, both looking back at how women were treated in the past and the desperate lack of progress today, I feel betrayed by my country. We're still fighting for basic reproductive rights for women and seeing an embarrassing response from our government."
Similarly, Can't Explain is another example of HAWK's acute social awareness and ability to create powerful soundscapes with a unique, compelling elegance. It was written as a reaction to people's ignorance and the power privilege has to erase the voices of those who need to be heard. A gritty slice of grunge-filled indie, it's propelled by thrashing riffs and a seething passion. Can't Explain showcases the soaring power of Julie's vocal at its most intense, as a potent sense of urgency rages throughout.
HAWK originally formed in London in 2014, before relocating to Berlin last year where they now produce all music themselves, and have also recently started working with Rocky O'Reilly (And So I Watch You From Afar) to help develop their post-rock sound. In addition to their musical endeavours, front woman Julie is also a skilled illustrator and has recently launched Female Fronted Drawn Together - a project through which she has created a playlist of admirable female bands/musicians and created an illustration to accompany each song.
Since the release of critically acclaimed singles such as Take It Away, Mirror Maze, Once Told and most recently, Sin, HAWK have received support from Noisey, Stereogum, Wonderland, DIY and The Line Of Best Fit to name but a few. Combining an abrasive edge with a beguiling grace, activism is at the heart of all HAWK create, with their music covering a range of topics including inequality, gender-preconceptions, and generalisations faced by different social groups.
Line Up
HAWK are a Berlin-based post-rock four piece who have recently located from London. The band consists of Julie Hawk (Vocals, Guitar), Matt Harris (Guitar), Chris Handsley (Bass), and Sam Campbell (Drums). Julie and Sam are both Irish, while Matt and Chris hail from the south-east of England. Julie and Matt first began to collaborate in 2012, with Chris and Sam joining later to form today's full band.
HAWK released their self-titled EP in April 2016 via Veta Records. For this latest EP, the band collaborated with producer Dimitri Tikovoi (The Horrors, Placebo, Marianne Faithful) on Once Told and The Hunt with both tracks mixed by Catherine Marks, best known for her previous work with Wolf Alice and Howling Bells.
During HAWK's time in London, they gained support from The Line of Best Fit, Noisey, Clash, Music Week, The Irish Times, Radio X's John Kennedy, Amazing Radio and BBC 6Music's Tom Robinson and Chris Hawkins.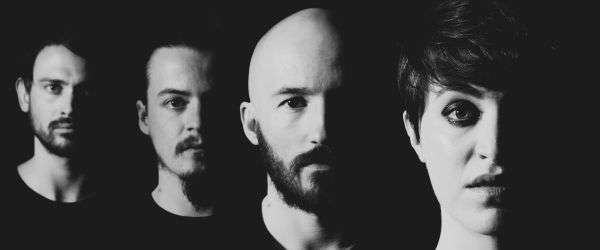 "... a melancholic folk-rock
masterpiece."
"some of the most inspiring melody
arrangements & progressions."
The Virginia based folk-rock trio The Anatomy of Frank explore nostalgia, relationships and mortality with the release of their latest album South America, out on 1st September 2017 via Polar Islands.
Having formed in Charlottesville, Virginia in 2010 as a five-piece, in 2015 the band found themselves in a state of disarray with the departure of two members. As a result, Kyle (guitar, vocals), Jimmy Bullis (keyboards) and Max Bollinger (drums) decided to re-orchestrate their sound and breathe new life into the band's identity.
The band had a valiant ambition to record an album on all seven continents and South America is the result. With a combination of brass, keys, strings, solid harmonies and rich melodies throughout, this album is an instantly immersive experience. The first single, La Llorona, focusses on the complexities of relationships when desire becomes self-destructive. Lead singer Kyle Woolard's soft, warm vocals and his intricate guitar plucking weave together effortlessly before a soaring choral line is introduced, shifting the song into an ethereal soundscape. Each offering on South America shows a different side to the trio, whether it's the instantly catchy indie-rock style of 'Sunken Coast' or the intimate musings of 'Viteri', this album captivates immediately with each starting note.
The band were set to begin recording in Ecuador, however the loss of a loved one inevitably affected their work. With support from family and friends, the trio found their strength and used their pain to produce their most poignant album to date. Now, The Anatomy of Frank are ready to spread their wings, performing at a number of festivals over the summer including Wilderness Festival and Camp Bestival to name a few.
https://www.facebook.com/kansascitytheatreband/
Kansas City Theatre is an indie rock band created by the brains of a couple California kids, who are currently doing their best to beam all of the music sounds straight into your brains from their headquarters in London, UK. We have an album coming out here on November 10, 2017 and it'll be the only album you listen to this year featuring electric rhythm ukulele. Strap in for the ride.